John Sloane's Country Seasons 2020 Deluxe Wall Calendar (Calendar)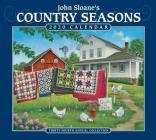 Description
---
Artist John Sloane shares a new harvest of paintings celebrating the beauty of the seasons and the joys of traditional country living in this 34th edition of his Country Seasons 2020 Deluxe Wall Calendar, which takes viewers on a year-long journey through the seasons, from winter's snow-blanketed hills through autumn's fiery display of maples, oaks, and poplars.

As always, John's paintings present an ideal country world as a peaceful refuge where daily cares and stress are a million miles away. Complete with its own matching envelope, this monthly wall calendar, an annual tradition for fans, is printed on heavy linen-textured paper and features ample writing spaces, large numbers, and a brass grommet for hanging.

Other calendars from John Sloane include: John Sloane's Country Seasons 2020 Mini Wall Calendar and John Sloane's Country Seasons 2020 Monthly/Weekly Planner Calendar.
About the Author
---
John Sloane is an award-winning artist whose detailed paintings reflect simpler times and restful places amid the unspoiled beauty of the American countryside. In his nostalgic artwork, you can take a break from the hectic modern world, stir your imagination, and soothe your spirit. His paintings are featured in the John Sloane's Country Seasons calendar collection. His artwork is also featured on collectable art prints, jigsaw puzzles, greeting cards, and quilt fabrics.