Coffee 2021 Deluxe Wall Calendar (Calendar)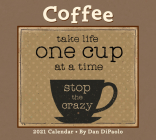 Description
---
Any coffee lover knows that the magical elixir makes any day better. Dan DiPaolo's Coffee 2021 Deluxe Wall Calendar has that effect on the entire year.

Its deep, rich monthly art and java-themed sayings satisfy and energize like a good cuppa Joe. Complete with a matching envelope, the calendar is printed on linen-textured paper, and the hang hole is reinforced with a brass grommet. It also includes a handy September-December 2020 spread and clean and roomy 2021 monthly grids.
 
About the Author
---
Dan DiPaolo lives in rural Wisconsin where he juggles farming, mostly cattle and chicken, with studio time. The farm is constantly changing and growing . . . just like the artwork he creates. For Dan, they are intertwined and evolve together. He believes working hard, learning, and living each day to its fullest potential is essential to both. Inspiration for his calendars comes from every acre of the land.