Join the Huntington Learning Center for our Summer Storytime Series at the Book Mark Shoppe, every Tuesday morning from 10:30am-11:00am. Every student participating will receive a bookmark and every parent can be entered to win a FREE Academic Evaluation for your K-12th child. Children of all ages are welcome to storytime!
Join us as we read the perennially popular tale of Alexander's worst day is a storybook that belongs on every child's bookshelf.
Alexander knew it was going to be a terrible day when he woke up with gum in this hair.
And it got worse...
His best friend deserted him. There was no dessert in his lunch bag. And, on top of all that, there were lima beans for dinner and kissing on TV!
This handsome new edition of Judith Viorst's classic picture book is sure to charm readers of all ages.
Event date:
Tuesday, August 15, 2017 - 10:30am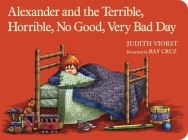 $7.99
ISBN: 9781442498167
Availability: Usually Ships in 1-5 Days
Published: Little Simon - January 7th, 2014
---